DUMPSTER RENTALS - CINCINNATI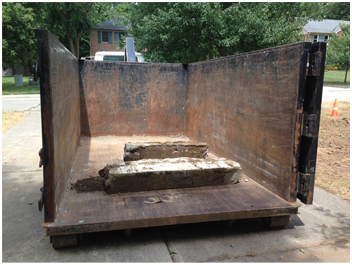 Best Hauling Co. is Cincinnati's solution for trash removal, move-outs, renovations, excavations, demolitions, and construction for houses, businesses and beyond. Having an easily accessible dumpster is priceless when you're clearing out debris, and a reliable dumpster truck takes it to the next level—not only do you have a large carrier to contain the debris from your project, but it is also easily transferred to an appropriate dumping site.
We provide a large variety of dumpster trucks for rent in the Cincinnati and Tri-State areas. No matter the size of your job, and no matter how much debris we're talking about, Best Hauling Co. has a solution for you. Take the guesswork out of construction clean-up, and remove the stress of disposing your renovation debris.
RESIDENTIAL & COMMERCIAL DUMPSTERS FOR EVERY JOB
Are you renovating your house? Are you demolishing an old business site? Are you in need of a one-stop solution for hauling your debris? We do our best at Best Hauling Co. to ensure that you have the right solution for the job no matter if you're removing old furniture or clearing out rooms and rooms of bad drywall. Our dumpsters can be rented daily, weekly, or for as long as you need them, and are available in a range of sizes.
DUMPSTER TRUCKS AVAILABLE FOR RENTAL
OUR NEW HOLLAND TRUCKS (BOBCATS)
Bobcat New Holland trucks are best used for loading big and bulky items, such as the debris yielding from demolition and excavation sites. We have two different types of bobcat trucks: one featuring solid tires for general transportation and the other featuring tracks to allow for all-terrain access. If your job requires it, a hydraulic grapple bucket is available for rent alongside the Bobcat.
DUMPSTER RENTALS MADE EASY
We do our best to take the stress away from your project cleanups. Each dumpster we provide includes a door with ground-level access, to help make debris deposits smother when in use. We even have roll off dumpsters that protect driveways, and make transportation easier.
When you rent a dumpster from us, we offer same or next-day delivery, whenever available. Once we get the dumpster delivered to you, we help ensure that it's placed on-site in a convenient location for use and will haul the dumpsters away, whenever you're ready.
Fill out our form to the right for a quick quote today
GOT QUESTIONS? CONTACT US!
If you have any questions about our dumpster trucks, our services, or about your site requirements, give us a call at (513) 200-6709. Best Hauling Co. is a licensed contractor in the Cincinnati and Tri-State areas, and we're always happy to help in any way we can.