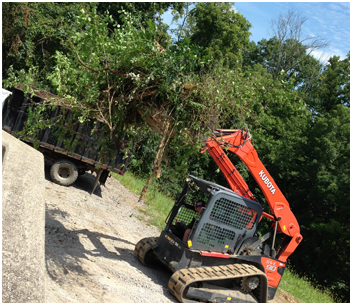 No job is too big or too small for Best Hauling Co. we treat each and every job the same: with efficiency and professionalism. Our land clearing services are no exception to this rule. We perform on-time, dependable services and set the industry standards for being able to provide the right equipment and expertise in a proficient and safe manner. We are available for land clearing services in the Cincinnati and Tri-State metro areas, servicing homeowners, commercial and residential property managers, contractors, realtors, business owners, and anyone else looking for fast junk removal and/or demolition in the Tri-State and Cincinnati Metro Area. Our services are as environmentally-friendly as possible and we offer same-day or next-day service at no extra charge, whenever possible.
EXAMPLES OF LAND CLEARING SERVICES
From jobs as small as clearing a small backyard plot of land to jobs as large as government-sponsored reclamation and land clearing, we've got you covered. Below is a short list of industry services we serve (and have served in the past).
Have questions? Need a plot of land cleared? Give us a call now, at (513) 200-6709.