GARAGE DEMOLITION SERVICES - CINCINNATI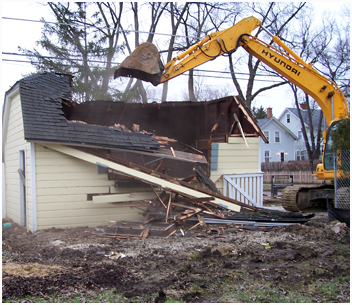 Best Hauling Co. performs dependable, environmentally-friendly demolition services and sets industry standards for being able to provide the right equipment and expertise in a proficient and safe manner. That means that while clearing your home-attached or detached garage, we can guarantee that we'll keep any persons, pets, structures, and utility lines on the premises in mind while doing the job, as well as your home. Destroying an entire building isn't easy. Let us help.
If your garage has become unstable or unwanted and needs replaced—you can count on us! We are available for demolition services in the Cincinnati and Tri-State metro areas. Best Hauling services homeowners, commercial and residential property managers, contractors, realtors, business owners, and anyone else looking for demolition services. Our services are as environmentally-friendly as possible.
WE ALSO PROVIDE DEMOLITION SERVICES FOR:
We are available for hard and soft demolition jobs.
CONTACT BEST HAULING FOR MORE INFORMATION
Have questions? Need your old garage demolished? Give us a call now, at (513) 200-6709. Best Hauling is a licensed demolition contractor in the Cincinnati and Tri-State areas.